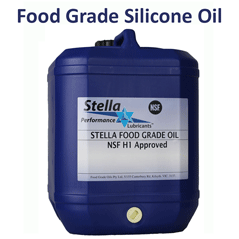 Food Grade Silicone Oil
STELLA Food Grade Silicone Oil is a silicone oil that is colorless, odorless, and tasteless.
It has excellent oxidation resistance, thermal stability, non-corrosive property, tarnish resistance and water resistance.
Silicone Oil is chemically inert with low flammability and good thermal conductivity, and can be used as an antifoaming agent.
Furthermore, its chemical resistance and water displacement properties make this product a long lasting surface protector.
Applications
Mold release agent for rubber, plastic and metal
Antifoam agent, damping fluid, heat transfer fluid and high temperature batch fluid
Benefits of Food Grade Silicone Oil
NSF H1 registered – Use where incidental food contact may occur.
Chemically inert – Will not affect rubber, plastic or metal.
Chemically resistant – Unaffected by mild acids, alkalis, alcohol and glycol.
High temperature range – Oxidation resistant and heat stable.
Waterproof – Ideal for wet conditions and water displacing.