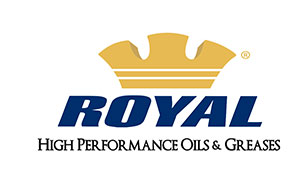 Crown Tech G series Food Grade Gear Oils are specially formulated to provide superior lubrication and high load carrying capacity. This water white oils provide outstanding anti-wear protection, is compounded to prevent rusting in the presence of moisture, is non-foaming and has rapid water separation characteristics.
ISO 100, ISO 150, ISO 220, ISO 320, ISO 460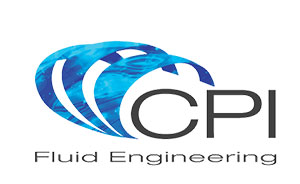 CPI Fluid Engineering – CPI®-4617-F Series represents a complete line of full synthetic industrial gear oils which are formulated to be NSF H1 certified. Formulated with high quality synthetic polyalphaolefin (PAO) base oil and a balanced sulfur phosphorus additive package, the CPI®-4617-F Series is optimized for use in low load, high speed industrial gearing systems such as integrally gear driven compressors.
The CPI®-4617-F Series also features excellent thermal and oxidative stability, enabling them to operate over a wide range of temperatures without coking, deposit formation or corrosion. These lubricants also have low volatility and compatibility with mineral oils.
ISO 100, ISO 150, ISO 220, ISO 320, ISO 460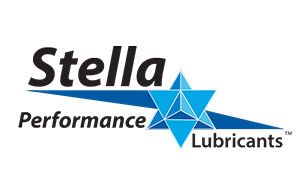 Synthetic Food Grade Gear Oil
STELLA Food Grade Gear Oils are a range of fully synthetic foodsafe oils particularly suited for the lubrication of gearboxes and reduction units.
STELLA Food Grade Gear Oils are characterised by
outstanding anti-wear protection
excellent start up protection
special additives that extend re-lubrication intervals
rapid water separation characteristics
rust prevention in the presence of moisture
non-foaming
NSF H1 \ Food Grade \ Foodsafe for the use in HACCP Certificate Food and Packaging Manufacturing Plants
Best suited applications: provide outstanding lubrication in all enclosed gears operating under normal or heavy shock-loading conditions.
With a complete range available, STELLA gear oil ensures you can use the correct recommended ISO grade for each gearbox.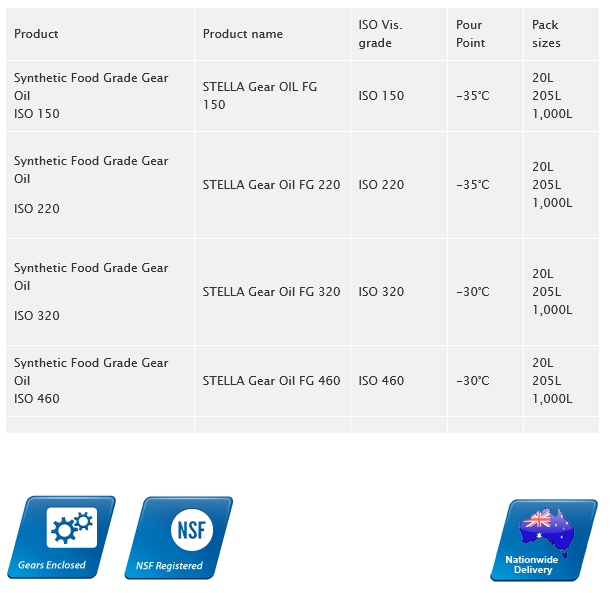 STELLA Food Grade Gear Oil is NSF H1 registered for incidental contact with food (the global food grade lubricant standard for food processing and packing equipment) and meets AQIS Lubricant Type A requirements.