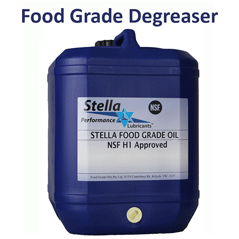 Food Grade Degreaser
Description
STELLA Food Grade Degreaser is a very special ultra pure fluid.
It is manufactured under special conditions to ensure batch-to-batch uniformity and to eliminate unwanted impurities, unsaturated olefins and reactive polar compounds.
The high degree of purity, combined with the relative inertness of the saturated paraffinic structure, means it can be used in the food industry and other clean environments.
Outstanding Features
Fast evaporation
Odourless
Compatible with selected food contact applications
Non Hazardous
Does not contain: mineral hydrocarbons, animal derived materials, nut oils or genetically modified ingredients.
Only FDA listed ingredients under 21 CFR 178.3570
NSF H1 \ Food Grade \ Foodsafe for the use in HACCP Certificate Food and Packaging Manufacturing Plants
All ingredients are FDA listed. STELLA Food Grade Degreaser is NSF H1 registered and meets the USDA 1998 H1 Guidelines.
This product does not contain genetically modified ingredients, nut oil or nut oil derivatives.
STELLA Food Grade Degreaser is NSF H1 registered for incidental contact with food (the global food grade lubricant standard for food processing and packing equipment).