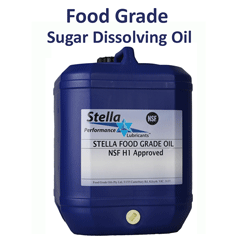 Food Grade Sugar Dissolving Oil
Description
STELLA Food Grade Sugar Dissolving Oil is a foodsafe, non-toxic fluid that dissolves sugar and fondants from all types of applications commonly found in food, pharmaceutical and other clean environments.
Sugar Dissolving Oil is NSF H1 \ Food Grade \ Foodsafe for the use in HACCP Certified Food and Packaging Manufacturing Plants and leaves a corrosion protective film on the surface to protect it from attack.
This durable film on the surface provides lubrication and resists further contamination.
STELLA Sugar Dissolving Oil is best applied by a hand trigger pack for accurate application.
5, 20 and 205 litre packaging is also available for refilling the trigger pack.