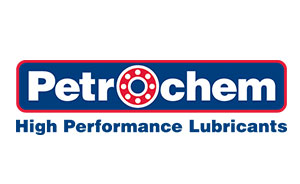 PETRO-GARD® FG 220 is NSF H1 registered synthetic ester high temperature oven chain oil designed for lubricating bakery oven chain that operating at high temperature Oven Environments up to 315°C Eg BAKERY OVEN CHAINS IN: TORTILLA OVENS, PITA OVENS, TUNNEL/TRAY OVENS (PIN/ROLLER CHAINS), RACK OVENS, SPIRAL OVENS, CONTINUOUS CONVEYOR OVENS (ROLLER BALL BEARING CHAINS), BAGEL/MUFFIN OVENS, ALL FOOD PROCESSING EQUIPMENT.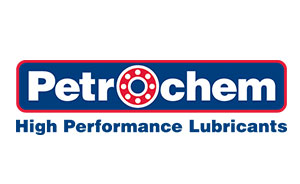 WHITE-GRAPHITE FG-220 is NSF H1 registered Food Grade Ester-Based Synthetic Chain Oil Fortified With Suspended Solid White graphite That Is Designed For Use On Chains Where Excellent Thermal Stability And Reduced Deposit Formation Is Desired. This Fully Synthetic Ester Based Carrier (Non-Vegetable Based) Minimizes Carbon Build-Up On Chains Contributed By Mineral/Vegetable Carriers And Will Cleanly Evaporate After 605°F While The Ultra Fine White-Graphite Powder Film Provides Extended Lubrication Intervals For Temperatures Up To 1200°F (650°C) Plus.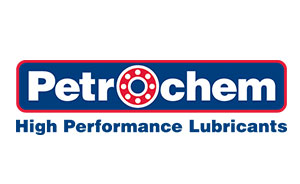 PETRO-GARD® 220 is NSF H2 registered formulated from Premium State Of The Art Synthetic Polyol Ester Base Oils And Proprietary Additives For Conveyor Roller Ball Bearing Chains, Pin/Roller Chains, Tortilla Chains, Slides And Gears That Operate In Extreme High Temperature Oven Environments.
PETRO-GARD® 220 is a clean, Ashless Fluid-Film That Decreases Energy Consumption by Maintaining Optimal Amperage, Eliminating Chain Stretching and Chain Dragging
PETRO-GARD® 220 has High Flash Point Exceeding 615°F thus can be applied to a Hot or Cold Chain While in Production, Hence Reducing Maintenance Cost and Increasing Productivity.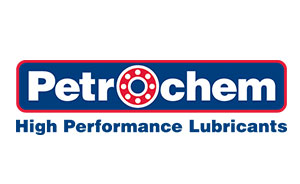 CC-2208 CARBON CLEAN OVEN CHAIN CLEANER H2
CC-2208 Carbon Clean is a oven chain cleaning lubricant eliminates the need for disassembling the chain for cleaning thus is a labor saving product to help soften and dissolve carbon build up on all roller ball bearing chains, pin/roller chains, tortilla chains, slides and gears that require cleaning.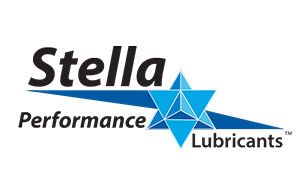 Food Grade Chain Oil
STELLA Food Grade Chain Oils are foodsafe, non-toxic chain oils particularly suited for the lubrication of drive and conveyor chains.
STELLA Food Grade Chain Oil 150 and 220 are full synthetic based, which STELLA Food Grade Chain Guard 150 and 220 and semi-synthetic based.
STELLA Chain Oil 150 and 220 are characterised by
Extended re-lubrication intervals
Unaffected by water – demulsibility ensures total separation of water from oil
Extremely wide operating temperature range
Adhesive additives coat gears ensuring non-drip and provide anti-wear protection at start-up
Extremely good oxidation stability which extends equipment life
NSF H1 \ Food Grade \ Foodsafe for the use in HACCP Certificate Food and Packaging Manufacturing Plants
Best suited applications: lubrication of drive chains and conveyor chains in application up to 240°C (up to 130°C for Gear Guard products).
STELLA Food Grade Chain Oil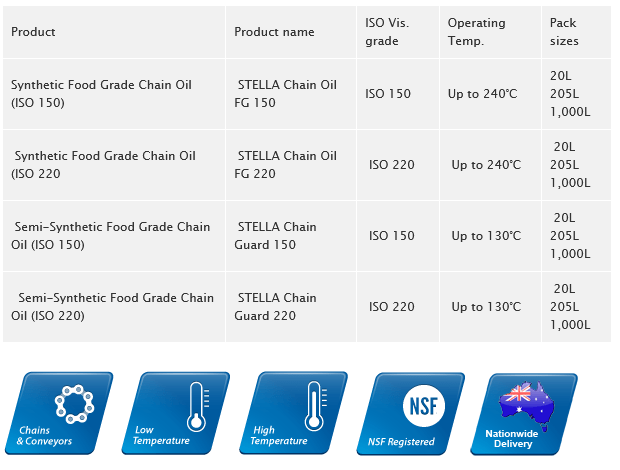 STELLA Food Grade Chain Oil is NSF H1 registered for incidental contact with food (the global food grade lubricant standard for food processing and packing equipment) and meets AQIS Lubricant Type A requirements.